Be kind, whenever possible.
Meet Maria Edora, a dedicated British Columbia Mobility Opportunities Society (BCMOS) volunteer who will be joining the hiking program for her third season this summer.
When you hear that Maria has consistently put in some of the highest volunteer hours for our summer hiking program you might think she has years of experience volunteering at various organizations. Surprisingly though, this is not the case.
Wanting to give back to the community but unsure of where to start, Maria went online, "I went through a volunteer Vancouver website and saw BCMOS. I thought it was the perfect fit for me because it involves exercise and the outdoors!"
Right from the start, she realized that the organization is so much more than a program for people to stay active, "it provides people who have disabilities with the opportunity to experience the greatness of being outdoors and that's so important."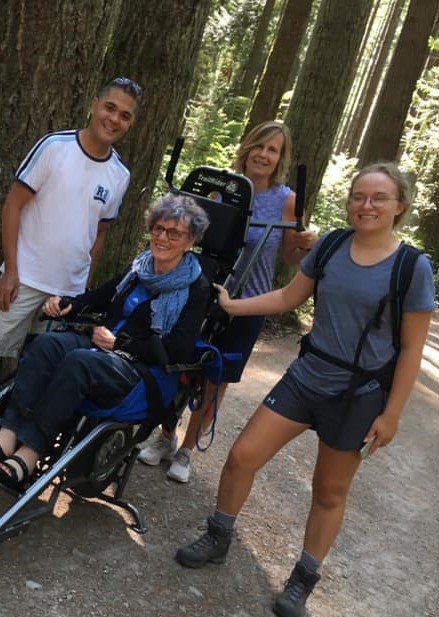 Maria especially values the social aspect of the BCMOS community, emphasizing that "the best part of [BCMOS] is the people. Every single person I've met, whether it's the day groups, individuals, or sometimes it's someone with their parents, dogs and families, just being able to have those communications with people has been amazing." She further added "The groups that I love and absolutely adore are the day program special needs groups because the people in those groups are always so fun and enthusiastic."
When reflecting on her favourite hikes, Maria says she enjoys "…the Pacific Spirit Park hikes [best] because they are not super challenging so there are a lot of chances to talk with people." She also enjoys the hikes to Jericho beach because she likes being by the water, "last year one of the guys that we assisted on a hike wanted us to push the TrailRider down into the water and then he slid out of the TrailRider and went swimming which was cool!"
When asked to offer some advice for people who may be interested in volunteering with BCMOS Maria said "If you're contemplating volunteering with BCMOS, I would encourage you to try it at least once because you're going to get so much more out of it than you actually put into it."
---
For more information about volunteering, please contact Sheryl Newman, Volunteer Management Coordinator at volunteer@disabilityfoundation.org or by phone at (778) 945-8823.