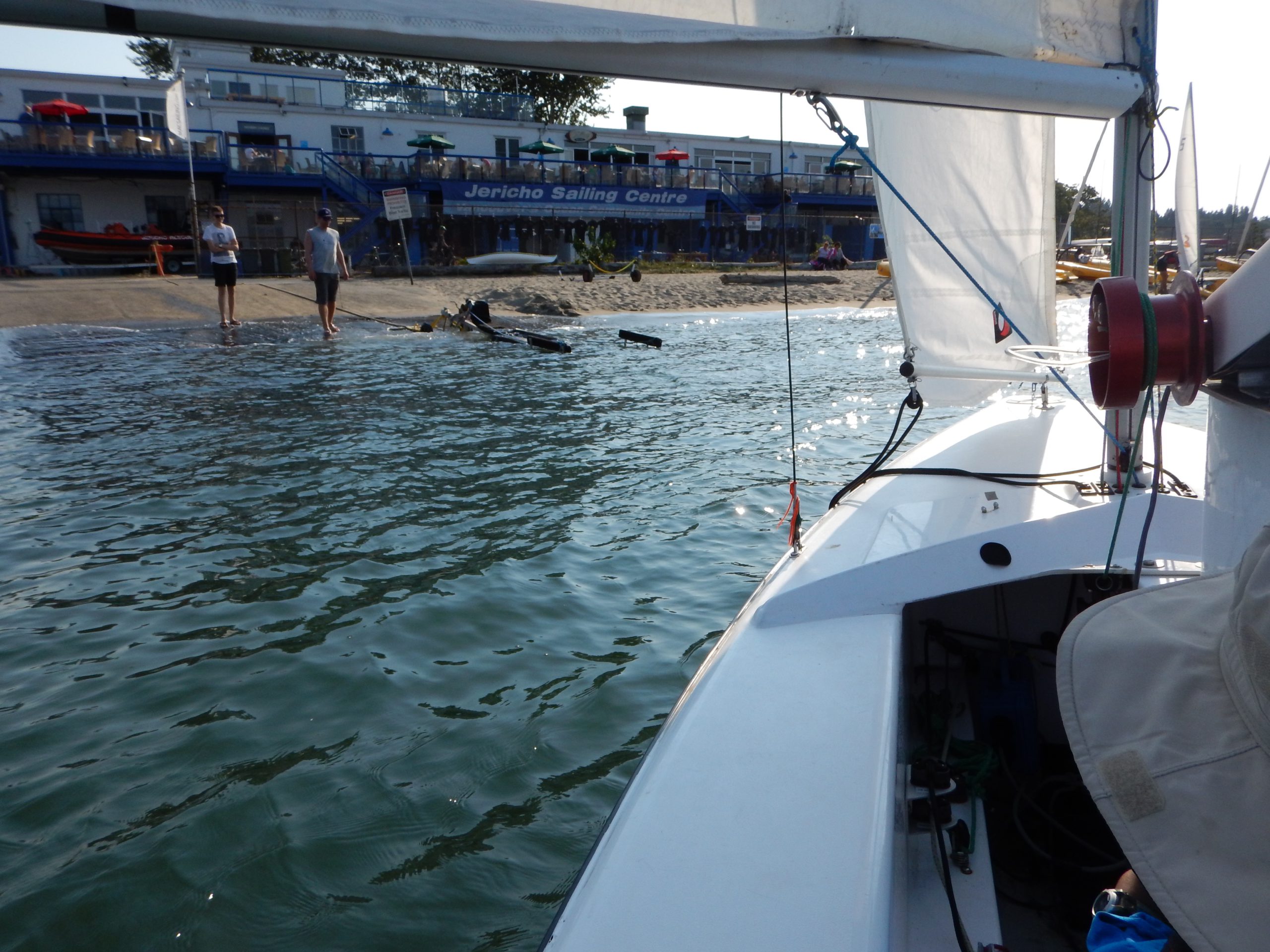 JOIN OUR ASABC
SAILING PROGRAM
We sail from the Jericho Sailing Centre in Vancouver using a fleet of Martin 16 sailboats.
The Martin 16 sailboat is designed specifically to be accessible for all levels of ability with the use of either joystick controls or sip and puff technology. Participants range from novices to experienced racers who advance to join the Race Club, representing ASABC in local regattas and national competitions.
Sailing experiences are available to children aged eight and up.
ASABC has an electric hoist for sailors who need assistance transferring into and out of the Martin 16s. The hoist uses a sling which can fit sailors of all sizes and can also fit custom slings if the sailor brings one. The hoist is safe and comfortable for all sailors.
Here's How It Works:
The ASABC summer office is open weekly Wednesday to Sunday, 10 am – 6 pm to the end of the summer sailing season. You can book a sailing session directly online by clicking the button below, or contact us by phone at our Summer office.
We offer one-hour sailing experiences for people of all ages and abilities, with boats launched every half hour between 11 am to 5 pm, Wednesday through Sunday.
Kids ages 8-18 sail FREE!
Individuals can book up to three sails at one time. Groups of three or more can only book one outing at a time.
You must be registered with us. This can be handled on the day before your first sail of the season – allow at least 20 minutes for registration. (Speed things along by downloading the registration form and filling it out ahead of time.)
We recommend arriving at the Jericho Sailing Centre early.
Note our cancellation policy: we require four hours' notice from individual sailors, or 24 hours' from groups, in the event of cancellation. Anyone unable to contact us in sufficient time will be required to pay for the missed sail.
Learn about membership with the Jericho Sailing Centre
On their third sail, participants will have the opportunity to book three more sails.
The 2022 sailing season will run from June 3rd – September 1st.
Programs
Recreational Sail:
A recreational sail is a casual sailing excursion on one of our adapted Martin 16 sailboats. No matter your level of experience, we have trained volunteers and staff that will gladly take you for an hour-long sail. Or, once you gain some experience, you can sail independently for an hour.
We supply lifejackets, and our boats are built not to tip, making them entirely safe. You can sit back, relax, and enjoy the beauty of the waters at Jericho Beach.
Learn to Sail:
If you want to learn to sail our boats, you can ask for instruction from one of our staff or experienced volunteers. They can teach you how to operate the vessel with one-on-one instruction. We will do our best to give you the same sailing companion for each of your experiences so that you can have consistent, ongoing teaching.
Race Club:
Sunday Race Club at Jericho Beach is for our experienced sailors. If you have a competitive nature and want to compete against friends, Race Club is a lot of fun! Every non-regatta Sunday between May 1 and September 4, 2022, races will be conducted in English Bay north of the Jericho Sailing Centre. For further information, please contact the Centre Association at 604-224-4177 or dominique@jsca.bc.ca or andrei@jsca.bc.ca.
One Sunday every month, the Adaptive Sailing Association of BC has a Race Club event. These are for experienced sailors with disabilities who want to compete and race for the win. Race club usually starts at 11 am, and you're on the water until 3 pm, competing multiple times against your fellow sailors.
Race Club is for high-level sailors who can sail solo, or if they are sailing with a companion, they must know how to navigate the boat independently.

Kids' Sailing:
One-hour recreational sails for kids ages 8-18 are FREE all season long.
We also partner with the British Columbia Mobility Opportunities Society (BCMOS) twice a year to host Kids' days! These are FREE to attend and offer kids under 18 a chance to try out adaptive outdoor activities in Vancouver. This year's Kids' days are Saturday, June 25th, and Sunday, August 7th. There will be games, TrailRider hikes, snacks, and fun. Book your family's spot by emailing hiking@bcmos.org before they run out!
We encourage you to be prepared for a variety of temperature extremes when going sailing. It's a good idea to bring:
Light sweater, waterproof jacket/rain gear, wind jacket
(we have waterproof pants if needed)
Sun hat, toque, gloves
Sun lotion, sunglasses, towel
Cost
Individual sails for adults $10
Individual sails for children ages 8+ FREE
Parking
Pay parking is available adjacent to the ASABC office.
---
The Disability Foundation and its affiliated societies comply with COVID-19 protocols as determined by the provincial health authorities (e.g., BC: https://www.worksafebc.com/en/covid-19). Our workers and volunteers will follow such protocols and must be vaccinated to work with and within our organizations (offices, program locations, and home visits), unless a medical exemption is in place. To protect our workers and volunteers, we expect our clients and partners to comply with COVID-19 health and safety regulations which means fully vaccinated unless there is a medical exemption.
Thank you for making everyone's health and safety the top priority.