Events
There are many opportunities to engage with others in the community. Check out what's coming up:
---

Accessible Community Forum (ACF): Inclusive Employment in BC
March 25
@
2:00 pm
–
4:00 pm
PDT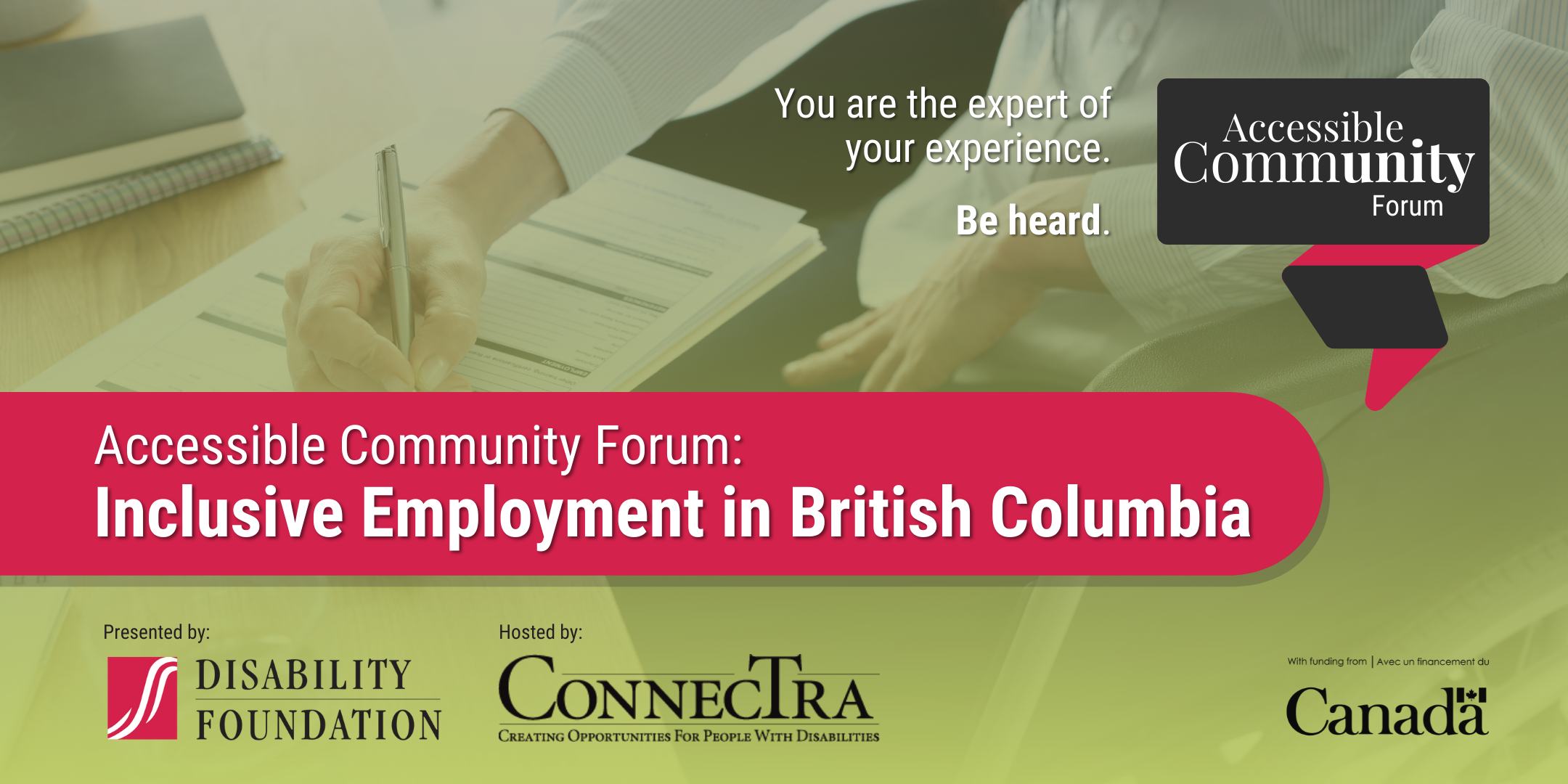 Do you feel you have equitable access to employment in British Columbia?
Join us on March 25th, 2022 from 2:00-4:00pm PT for this accessible and informative online event on inclusive employment in British Columbia.
Presented by the  Disability Foundation  and co-hosted by the  ConnecTra Society, this next Accessible Community Forum aims to cultivate a conversation between various organizations and our community of people living with disabilities.
Inclusive employment is a frequent topic of discussion in our outreach, previous Accessible Community Forums, and affiliated societies' regular programming. Through our survey and forum, we will build on our current knowledge and broaden our collective understanding of your needs and how best to accommodate them.
With one in five Canadians (and approximately 15% of British Columbians) living with one or more disabilities, it is incredibly important that employment is accessible to all.
Help us explore possible solutions and resources to bridge the gap between the employment opportunities you currently experience, and what they could become. This is an open, honest, and inclusive dialogue between a panel of organizational representatives and our beautiful province's diverse disability community.
Start the conversation by taking the Inclusive Employment in BC Survey by Sunday, March 20th at 11:59pm. Click here to take the survey.
You are the expert of your experience. Be heard.
If you require any assistance to take the survey, register, or attend this event – please email us at info@connectra.org. Closed captioning will be available.
Check out our previous Accessible Community Forums at disabilityfoundation.org/acf
Have something to share? We would love to have you contribute!
We're always looking for more people and organizations to host interesting and engaging live disability focused webinars. If you have an idea for a workshop or presentation, we would love to hear from you.
Please email: info@connectra.org.